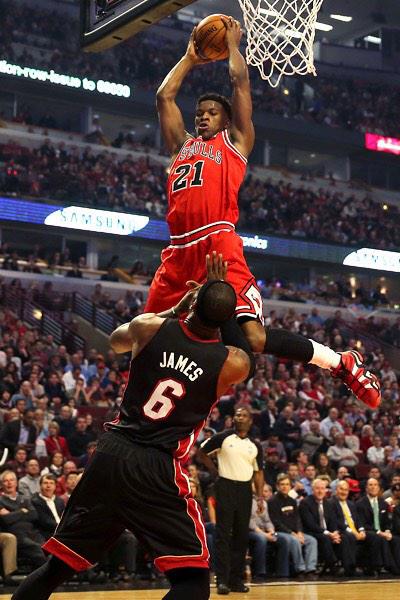 #21 SG-SF 6'7 220 Jimmy Butler age 26 @JimmyButler
Buckets. Lots of buckets. Jimmy Butler made himself buckets of money by betting on himself and putting himself in the Top 3 SGs in the league with lots of potential still left in his arsenal. I love Jimmy Butler like that one band you loved before everyone started selling them out. Over the last year I have heard and read many analysts say on one knew this was coming. However, not only am I member of the Jimmy Butler fan club, I am the President. I wrote this using my old band's Twitter handle to former Bulls Confidential blogger Doug Thonus early during Jimmy's rookie year:
My confidence in Jimmy began by watching him at Marquette. In college, Butler was already great defensively, able to guard 4 spots competently. His movement and agility on defense was ahead of his mechanical offense at Marquette. He was a capable scorer, and was relied on more his senior year. What I saw in Jimmy was not only his physical gifts and elite athleticism, but also an inner strength considering his documented early life crisis. It instilled a self-motivation and determination to work, combined with a very passionate will to succeed. His psychological makeup, the confidence and toughness, is Jimmy's engine. His development into a dependable scorer at the shooing guard spot started with his athleticism and ability to move laterally like smaller guards. Watching him his rookie year, with Luol Deng at the SF spot and Thibs checking ID's for ages before handing out playing time, I kept thinking Jimmy could be a taller SG to pair with Derrick Rose, and had potential to be a cross between Tony Allen and Latrell Sprewell, but at over 6'7! He owes much of it to what I have called his "swivel hips", like a cornerback in football, he has incredible balance while remaining upright waist up. He reminds me of old cartoons where the character's legs start running while the upper body doesn't. His speed has always been there on defense from the start, but it took him a while to trust it on offense due to his need to improve his dribble. A true student of the game, he had to learn how to score at this level and put in the work to add skills each summer. While there are natural born scorers, Jimmy has a more controlled offensive skillset which has allowed him to reach the free throw line very often as he fine tunes his scoring abilities and touch on drives. He added a dependable jumper and handles his own in the post. He improved his passing ability and is visibly making the right passes most of the time. He is getting comfortable with the new Fred Hoiberg offense and should find a lot more fast break points running with Rose. I believe da Bulls backcourt of Rose and Butler already is elite, arguably only behind the Splash Bros in Golden State, although they have actually played at least twice as many games together. It took a lot of reps for the Splash Bros to have that chemistry. It will be exciting to see how "da Bullies" (Butler & Rose) improve this season as they grow more comfortable together. Their games are perfect for each other considering the cast around them, and if Jimmy can hit over 37% of his 3pt shots while continuing to show the great passing skills he used this preseason, he will challenge James Harden for the Top SG spot. The Bulls were great when they had one of those before, and it is wonderful that Jimmy studies Michael Jordan's game video to improve. He has become the vocal leader and enforcer on the floor, not shy to mix it up with opponents, and was voted one of the toughest players in the GM poll, surviving Thibs after playing entire playoff games. He has made himself a fast rising star in the NBA. His great personality shines through in his off-court endeavors. He has attracted many new fans, some famous & hot like S.I. Swimsuit model Erin Heatherton recently, and a bromance with Mark Wahlberg. All this is great for Jimmy's confidence in my opinion, and he has earned the respect from the team to continue to be the vocal leader, especially with Noah moving to the bench. I have great expectations for da Bulls this season, and Jimmy's will to make himself a success has given Bulls fans reasons to dream big.
Follow Me @SportsSpecialEd